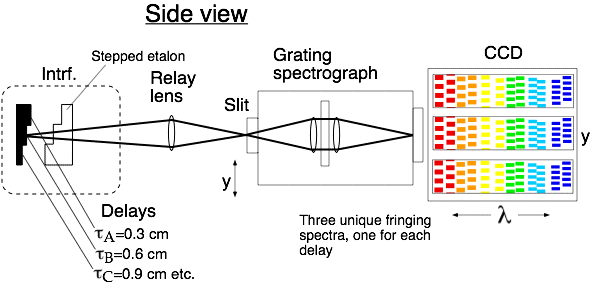 Figure A3. Scheme for measuring multiple delay fringing spectra simultaneously. In this side view the spectrograph dispersion is into the paper (although the colored spectrum is depicted horizontally). Internal details of the interferometer are omitted except for the stepped shape of one of the two mirrors. Because the EDI is an imaging interferometer, different vertical locations along the interferometer mirror are imaged to independent locations along the spectrograph slit and CCD. The interferometer mirror and etalon are divided vertically into steps to produce the different delay values, which are measured simultaneously on the same CCD. The thicknesses of the steps are chosen to keep the virtual image of the steps all in the same plane, to preserving the wide angle ability.

The stepped shape of the mirror should not be confused with a diffraction grating, because the beamlets are imaged to separate positions on the CCD and therefore due not communicate with each other.

With multiple delays, the effective resolution can be boosted by factors much greater than 2.5x. Recently 6x boosting has been demonstrated (Figures, report Ref. 8, using theory in report Ref. 7) with different delays measured sequentially by a single delay EDI. The Gaussian lineshape resolution that can be obtain will be proportional to the number of delays used (M), with a boost factor approximately as (1+1.5M).